Clockwork Beast: Fighting Makes Me Weaker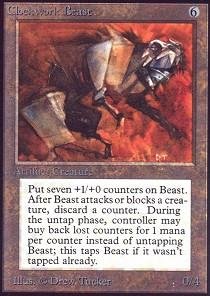 Clockwork Beast may be a 0/4 artifact creature but it initially starts with 7 +1/+0 counters on it making it a 7/4 creature when you start out.  However, whenever you attack or block with it, it loses 1 counter after the combat phase.  You can buy back the counters by paying 1 colorless mana instead of untapping the beast during your untap phase.
If you have a Doubling Season in play, you'll be able to recover 2 counters at a time instead of 1 which saves turns.  There's some controversy surrounding the Doubling Season + Clockwork Beast combo in that it's not possible to get more than 7 +1/+0 counters on it.  Even without that, it's still a very potent combination.
Watch the Clockwork Beast in Play
My Thoughts
Personally, I think this beast is more suited for defense than offense unless your opponent has absolutely no creatures in play.  Your opponent can whittle your beast down by blocking it with disposable weak creatures but at least when you're defending, you're in control of what you want to block.  To learn more, please follow the button below to Amazon.com!