Horizon Canopy (Dual Land) – Rare MTG Cards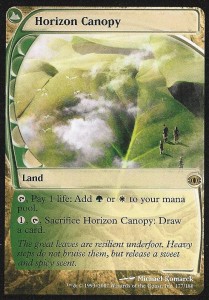 Horizon Canopy is a Dual Land that produces Green and White mana for the cost of 1 life.  In addition, you can spend 1 colorless mana and tap it to activate its second ability: sacrifice it to draw a card.  The 1 life you must pay is a rather small price in the beginning of the game and since you likely have some White in your deck, it wouldn't be too far fetched to replenish the lives lost due to this card.
As the game progresses, mana generally becomes more plentiful while lives are more scarce.  Unlike the hoards of (mostly useless) plains and forests you have in play at this point, this land will continue to add value to your gameplay by allowing you to draw an extra card upon sacrificing it for 1 mana.
Watch the Horizon Canopy in Action
Here's a White and Green deck I've modified a bit to take full advantage of the Horizon Canopy:

The Verdict?
Despite the 1 point of damage you need to pay to activate its mana producing abilities, it's a life saver in White-Green decks and minimizes your chances of being mana screwed.  But once they've lost their usefulness later in the game, they can be sacrificed to put more cards in your hand.  For competitive decks where every single card counts, this is quite an invaluable addition.  You can learn more about it at Amazon.com by clicking the link below.