Atarka's Command: So Many Choices…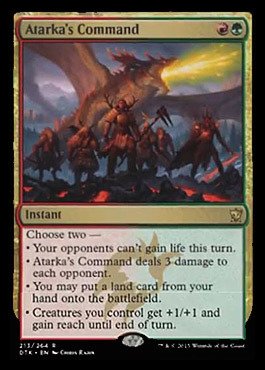 Atarka's Command is a Red and Green instant that gives you 2 choices of effects to pick from when you cast it:
Prevent your opponents from gaining any life this turn.
Deal 3 damage to each opponent.
Play a land from your hand (even if you've already played a land earlier.)
All of your creatures gain +1/+1 and can block flying creatures this turn.
Needless to say, this card really shines when playing against multiple people since 2 of the 4 abilities will target more than one opponent.  If you can manage to put together a 4 color deck (perhaps by throwing in some dual lands and a Pulse of Llanowar) and play a Siege Rhino while choosing to deal 3 damage to all opponents with Atarka's Command, you can gain a lot of ground very quickly in terms of your relative life.
Watch Atarka's Command in Action
Final Thoughts
If you're not playing against multiple opponents, it's best to put this card on your sideboard, assuming you're able to pay the multicolored casting cost.  The ability to prevent your opponent from gaining life can be a game changer when your opponent is down to his/her last few lives and tries to gain some life back.  If you think Atarka's Command is a great fit for your deck, please check it out at Amazon.com by following the button below!