Grove of the Burnwillows: A Fairly Harmless Dual Land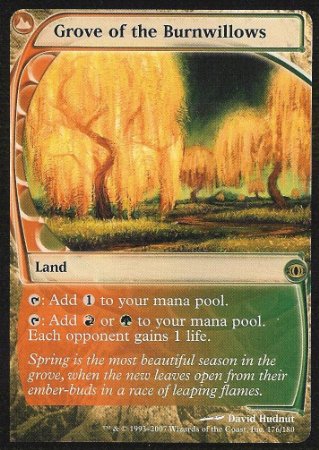 If you're playing a Red and Green deck, you're gonna want 4 Taigas if you can get your hands on them.  But if 4 Taigas are not enough to satisfy your need for dual mana sources, you'll likely look at other lands that produce Red and Green mana but with certain strings attached.  For example –
Karplusan Forest (deals 1 point of damage whenever you tap it for Red or Green)
Copperline Gorge (comes into play tapped if you control more than 2 lands)
Jungle Shrine (comes into play tapped, tap to add a Red, Green, or White mana to your mana pool.)
Paying 1 life to receive a flexible source of either Green or Red mana may make sense early in the game but it dangerous and risky when your life is low.  On the other hand, a dual land that comes into play tapped is limited in effectiveness since the whole purpose of these is to minimize the wait before you can cast all the spells you want to play.
Grove of the Burnwillows, on the other hand, will grant your opponents 1 life each time it's tapped for Red or Green mana.  And you won't even run into that drawback if you tap it for colorless mana!  It's probably your next best alternative once you've already stuffed your Red-Green deck with 4 Taigas.  When you're down to 3 life, you'll really wish you had this instead of, say, the Karplusan Forest which will cost you one more life.
Watch the Grove of the Burnwillows in Action
2 Example Combos
1st combo: with Punishing Fire
Punishing Fire is a red spell that deals 2 damage to any target and can be brought back from your graveyard whenever an opponent gains life.  You can reuse Punishing Fire as many times as you like using the Grove of the Burnwillows.
2nd Combo: Kavu Predator
Kavu Predator is a green creature that gets a +1/+1 counter each time your opponent gains life (and it has trample.)  You can give it +1/+1 every turn using the Grove.
Should You Get This Card?
The Grove of the Burnwillows is what I call a "poor man's Taiga".  If you already have 4 copies of Taiga (or can't afford them), then Grove of the Burnwillows is an excellent alternative that won't leave you scrambling when you have little life left or waste your precious time early in the game as you wait for some other dual land to untap.  So please check it out at Amazon.com by clicking the button below!