Zulaport Cutthroat: Avenge the Deaths of your Creatures!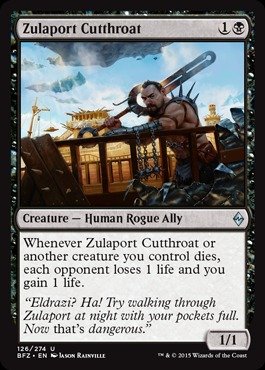 Zulaport Cutthroat is a 1/1 Black Creature that deals 1 damage to all of your opponents and gives you 1 life each time a creature dies or if Zulaport itself dies.
Watch Zulaport Cutthroat in Action
Infinite Combo For the Win
You'll need the following cards in play:
Zulaport Cutthroat (Black)
When Brood Monitor comes into play, you'll get 3 Green 1/1 Tokens that can each be sacrificed to add 1 mana to your mana pool.  Eldrazi Displacer allows you to pay 2 mana to temporarily exile a creature and then put it back into play.  And Zulaport Cutthroat does 1 damage to all opponents when a creature dies.
Step 0: Get the 3 creatures listed above in play.
Step 1: Pay 2 mana to your Eldrazi Displacer to exile your Brood Monitor and get it back into play.  You'll receive 3 1/1 tokens.
Step 2: Sacrifice all 3 tokens.  Zulaport will deal 3 damage to all opponents and you gain 3 colorless mana in your mana pool.
Step 3: Go back to Step 1 and repeat until all opponents are dead.
Final Thoughts
If this card were White, it'll be perfect for your Weenie decks.  But you can still build a Black-White Weenie deck around these guys, penalizing your opponents and gaining life whenever any one of your countless creatures dies.  To learn more about Zulaport Cutthroat, please follow the button below to be taken to Amazon.com!