Wooded Foothills: Bring Me a Forest or Mountain, Plz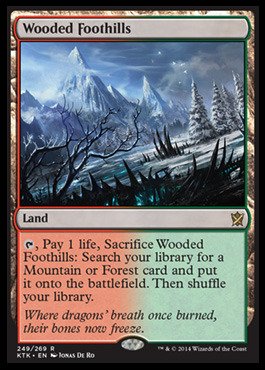 Wooded Foothills is a Fetch Land that fits in multicolored decks with Red and Green since it can be used to put a Mountain or Forest into play by paying 1 life and sacrificing it.  In decks with 3 or more colors, it becomes even increasingly more useful since the lands merely need to count as either Mountains or Forests even if you're in need of a different mana type.  For example, suppose you need White mana: you can use Wooded Foothills to search for a Plateau which counts as both a Mountain and a Plain.
Watch Wooded Foothills in Action
Final Thoughts
If you've got a lot of spells that have the "Delve" ability, having a ton of Fetch Lands like this one in your deck isn't that bad of an idea since it gives you fodder to exile and make spell casting easier as a side benefit.  To learn more about Wooded Foothills, please head over to Amazon.com by following the button below!