Bloodstained Mire: A Swamp or a Mountain Shall Take Its Place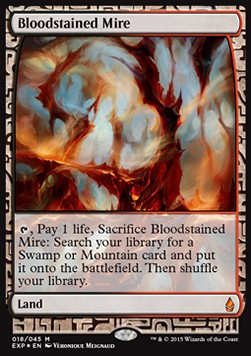 Bloodstained Mire is a Fetch Land that lets you pay 1 life and sacrifice it to search for either a Mountain or a Swamp and put it directly into play.  It's especially useful if you're using Dual Lands in a 3 or more colored deck.  For example, a Bayou counts as both a Swamp and a Forest so you'll still be able to retrieve that using land even if you're really after some Green mana.
Watch Bloodstained Mire in Action
Final Thoughts
If you're playing a 3 or more colored deck where Black and Red are your dominant colors, you'll definitely want to throw this in along with some Dual Lands so that all different colors of mana are easily available at your disposal.  To learn more about Bloodstained Mire, please follow the button below to Amazon.com!