Sphinx's Tutelage: Great for Milling Your Opponent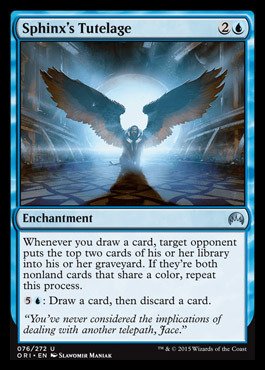 Sphinx's Tutelage is a Blue Enchantment that mills the top 2 cards of your opponent's library into his/her graveyard.  If both cards are non-lands of the same color, then you'll keep repeating the process.  You can also pay 6 mana (1 of which should be Blue) to draw and discard a card which also triggers the main effect.
Watch Sphinx's Tutelage in Action
Example Combo
You'll need 1 or more of the following card in addition to the Sphinx:
Howling Mine makes all players draw an extra card every turn which will cause the Sphinx to trigger and your opponent to discard at least 2 cards.  Thieving Magpie will get you to draw an extra card every time it damages an opponent which deprives him/her of the benefit of drawing extra cards but it won't take into effect if it's blocked.  And Painter's Servant will make all cards in your opponent's deck a color of your choice in addition to their original colors which makes it much easier for the Sphinx's milling effect to activate; I highly recommend this Servant for your sideboard in case your opponent plays multiple colors and/or has a ton of artifacts.
Final Thoughts
This card is more suited to decks that win by milling your opponent's library down to zero rather than getting their life down to zero.  If Sphinx's Tutelage is a great fit for your deck, please check it out on Amazon.com by following the button below!