Snapcaster Mage: Master of Flashbacks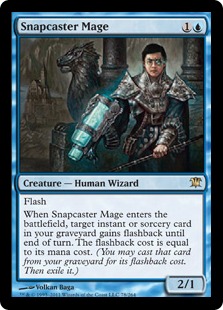 Snapcaster Mage is a 2/1 creature with a converted mana cost of 2 but that's only scratching the surface of its power!  Its biggest asset is the ability to let you play any sorcery or instant card from your graveyard (aka "flashback".)  This ability is extremely powerful especially if you've got powerful restricted spells that you can only include 1 of in your deck like my favorite, Demonic Tutor.  Since it has flash, you can use it any time you can play an instant.  Unfortunately, you must exile the card that you play from your graveyard so in essence, you can only play your favorite restricted spell twice in a round using Snapcaster Mage.  And if you're also playing black, you might want to find ways to resurrect your mage from the dead, say, with a Raise Dead or Gravedigger so you can use this ability multiple tiles.
But before you jump the gun and cast this mage, you want to make sure you have enough mana to play whatever sorcery or instant you want to use flashback on since the flashback effect only lasts until the end of your turn.
Watch the Snapcaster Mage in Action!
Watch me use this mage to bring a Demonic Tutor back from the graveyard.  You can use your Snapcaster Mage to do this with your favorite restricted sorceries and instants.  (Note that I've snuck multiple Demonic Tutors in my deck for ease of demonstration but you should only include 1 when you play with others, assuming it's even legal in your format.)

Final Thoughts
This card is extremely valuable in many blue decks since we could always reuse our sorceries and instants for maximum benefit (but make sure you have enough mana left to cast the spell.)  To learn more about Snapcaster Mage, please visit Amazon.com by following the link below!