Valorous Stance: Can Either Protect or Destroy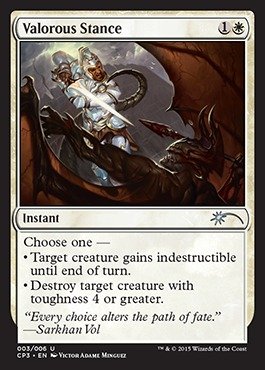 Valorous Stance is a White Instant with a low mana cost that lets you choose to either make a target creature indestructible until end of turn or to destroy a creature with a toughness of 4 or greater.
Watch Valorous Stance in Action
Final Thoughts
This is obviously a very versatile card since it can either destroy a creature or protect one of your own creatures from destruction.  Because even if your opponent doesn't have any creatures with a toughness greater than 4, you can still use it to protect your own creatures from destruction.  To learn more, please head over to Amazon.com by following the button below!