Goblin Guide: Cheap But Will Help Your Opponent with Mana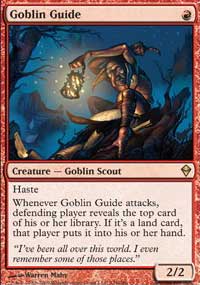 Goblin Guide is a 2/2 Red Creature with Haste and costs only 1 mana.  You can effectively start doing 2 damage to your opponent on your first turn with this little guy.  The catch?  Well, he seems to be a double agent for the enemy as well.  After attacking, he's gonna take a look at your enemy's library and if he sees a land at the top of the library, he'll secretly sneak it into his/her hand.
Watch Goblin Guide in Action
Final Thoughts
Personally, I think this Goblin benefits the opponent a bit too much by helping him/her draw extra lands right after dealing damage.  However, if you're playing a dedicated goblin deck with cards like Goblin King, Goblin Rabblemaster, etc., then the additional benefits brought to Goblin Guide will clearly offset its main drawback.  To learn more, please follow the button below to Amazon.com!