Bile Blight: Disease Targeting a Specific Creature Type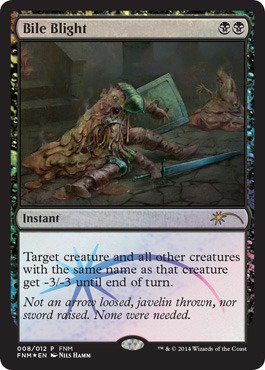 Bile Blight is a Black Instant that gives a creature plus all other creatures with the same name -3/-3 until end of turn.  It's a great way to wipe out a bunch of Llanowar Elves or other mana creatures in one swoop but it's best utilized against large armies of tokens since each player can only have up to 4 non-token creatures of any particular name.
Watch Bile Blight in Action
Final Thoughts
This is a great card to put on your sideboard in case your opponent likes to summon armies and armies of small token creatures (common in Elf and Goblin decks.)  Or if they use a spell to turn their lands into creatures like with Thelonite Druid, you can not only kill them all but also potentially destroy a ton of land at the same time by placing a Bile Blight on one of them.  For more information, please check it out at Amazon.com by following the button below!