Dark Confidant: Those Secret Spells Will Cost Ya!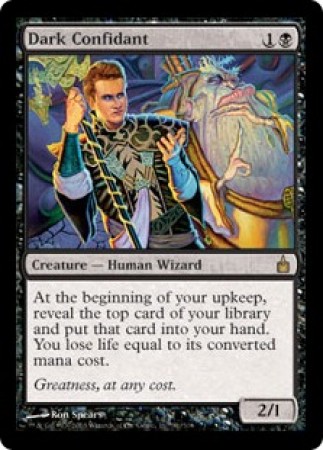 Dark Confidant is a 2/1 Black Creature that lets you look at the top card of your library during your upkeep and put that card into your hand.  It's kinda like a Howling Mine except that your opponents don't draw any extra cards!  The downside is that you'll lose life equal to the converted mana cost of the card you just received.
Watch Dark Confidant in Action
Example Combo
First Combo: With Sensei's Divining Top
Sensei's Divining Top lets you pay 1 mana to look at the top 3 cards of your library and put them in any order.  Since you'll take damage from Dark Confidant for any card drawn that costs mana to play, it's best to put a card with low mana cost 1st and high mana cost 2nd so you'll take as little damage as possible.  And if all 3 cards all have relatively high mana costs, you can tap to put the Divining Top right on top of your library and only take 1 damage when you draw it (since its mana cost is 1.)
Second Combo: With Enduring Renewal
Enduring Renewal is a White Enchantment that causes all creatures that are killed to go straight back into your hand instead of the graveyard.  The catch is, if you "draw" a creature, you must discard it immediately.  However, Dark Confidant allows you to obtain cards from your library during your upkeep without actually "drawing" them which may allow you to bypass this restriction.  (I'm not 100% sure as of this writing and have asked a Magic judge regarding it.)
Third Combo: With Greed
If Sensei's Divining Top revealed that all 3 cards on top of your library have very high mana costs, to avoid losing a ton of life, you're gonna want to have Greed in play which allows you to pay 1 Black mana and 2 life to draw a card.
Final Thoughts
This guy is more of gamble unless you have some control over the order of the top cards on your library since you'll be losing a ton of life if you draw something with a high mana cost.  To learn more about Dark Confidant, please come to Amazon.com by following the button below!