Stoneforge Mystic: Where's that Equipment When You Need It?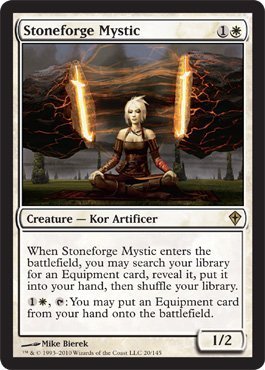 Stoneforge Mystic is a 1/2 White Creature that lets you search your library for any Equipment Artifact card and put it into your hand.  You can later play that Equipment (or any Equipment from your hand) by paying (1)(W) and tapping the Mystic.  This is especially useful if you're putting a powerful Equipment with the "Living Weapon" ability into play.  (Living Weapon allows an equipment to generate a token creature as soon as it's cast and have it attach to the token by default.)
Watch Stoneforge Mystic in Action
Final Thoughts
If you rely on a lot of equipment with relatively high casting costs in your White deck, then Stoneforge Mystic would be a great fit.  Think of it as an Equipment Tutor for White.  To learn more, please head over to Amazon.com by following the button below!