Berserk MTG Card: Temporary but fatal power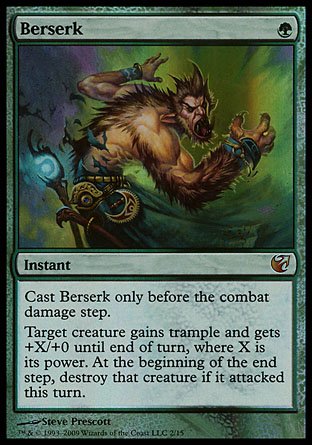 The Berserk MTG card is a classic and here you'll find the Foil version here!  The way it works is very simple: you pay only a single Green mana to double the power of your creature and give it Trample.  However, you must destroy that creature at the end of your turn if it still remains standing.  This ability to temporarily gain passive power at the expense of one's life kinda reminds me of the 8 Gates technique in Naruto but I digress.
Watch the Berserk MTG Card in action
One of my creatures was afflicted with Contempt which forces me to return it to my hand after attacking with it.  Normally, this would be detrimental but I was in luck since I had a Berserk in my hand!  So I attacked with the creature enchanted with Contempt anyways and cast Berserk on it.  My opponent didn't block that creature and before Berserk could destroy it, Contempt returned it to my hand and I got to recast it again!
Final Thoughts
This is an excellent spell to use on creatures that have far more power than toughness like the Ball Lightning since they're likely gonna die after attacking anyways.  To learn more, please head to Amazon.com by following the button below!