Monastery Swiftspear: Great for Red Decks with Direct Damage Spells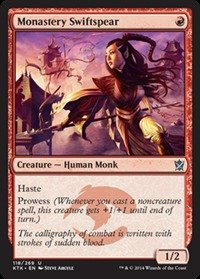 Monastery Swiftspear is a 1/2 red creature with Haste and Prowess.  The latter ability lets you gain +1/+1 until end of turn for every non-creature spell you cast that turn, even if it ends up being countered!  This is excellent if you're casting a ton of low-cost red direct damage spells like lightning bolts and shocks to soften up your enemy's defenses before attacking with a buffed up Swiftspear!
Watch Monastery Swiftspear in Action!
The Verdict?
Even without its special abilities, Monastery Swiftspear is still a solid creature that can be had for only 1 mana.  Throw in some useful instants, sorceries, enchantments, and artifacts and you'll get to see the full potential of this creature.  To learn more, please visit Amazon.com by following the button below!