Genesis Hydra: More heads are always better than less!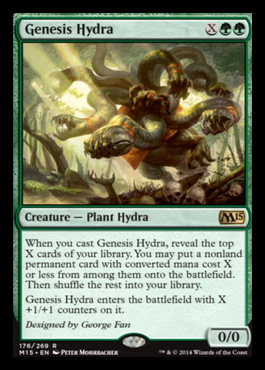 Genesis Hydra is a Creature that costs 2 Green and X colorless mana.  Whatever you spend on X determines its power and toughness (e.g. X/X) although you can double it with Doubling Season.  And as a bonus, you get to look at the top X cards of your library and put an additional creature among those cards into play if its casting cost is X or less.  It's a great way for casting those 5 colored creatures.
Watch Genesis Hydra in Action
Final Thoughts
As a creature, it's a bit expensive in terms of mana cost compared to its power and toughness.  But if you can afford to spend an insanely large amount of mana on X, then you not only get the benefit of searching a large # of cards at the top for the creature you want but you also get to be able to put larger creatures into play as well.  To learn more about Genesis Hydra, please follow the button below to Amazon.com!