Mutavault: The Land that's also a 2/2 Creature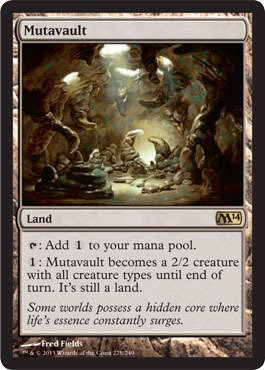 Mutavault is a land that produces 1 colorless mana when tapped.  It also has the ability to become a 2/2 creature until the end of turn if you pay 1 colorless mana (presumably from another source.)  This is useful later in the game if you plan on Overrunning your opponent for the kill.
Watch Mutavault in Action
Final Thoughts
The best part about this card is that it can serve as both a mana source and a creature depending on which you'll be needing more in the moment.  This is especially powerful in Artifact-only decks!  If you'd like to add this card to your deck, please head over to Amazon.com via the button below!