Engineered Explosives: Don't Destroy All Permanents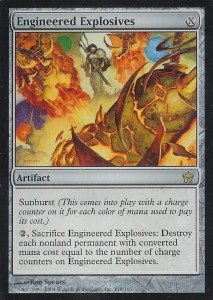 If you're playing a multicolored deck and want to destroy only permanents of a specific cast cost, Engineered Explosives are designed precisely for this task at hand.  Simply the # of different colors you used to pay for X will equal the casting cost of all permanents that'll be destroyed when you sacrifice Engineered Explosives.  If that sounds confusing, let's say you tapped an Island, a Forest, and a Plains so you have 3 different mana types.  You use those 3 mana to cast Engineered Explosives and when you activate its ability, you'll destroy all permanents with a casting cost of 3.
Watch Engineered Explosives in Action
My Final Thoughts
The effectiveness of this card is highly situational so it's no surprise most people include it on their sideboard.  If your opponent has a TON of permanents with a casting cost of 1 or 2, this can come in handy.  To learn more about Engineered Explosives, please come to Amazon.com by clicking through the button below.