Jihad MTG Card: Boost all white creatures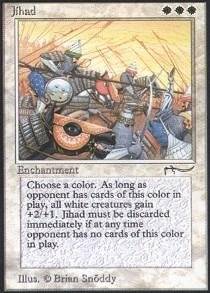 The Jihad MTG card is an Enchantment that gives all white creatures +2/+1 as long as your opponents control at least 1 permanent that contains the color you selected when Jihad came into play.  However, if your opponent no longer controls any permanents of your chosen color, Jihad must be destroyed.
This card is most useful later in the game especially if both you and your opponent have deployed multiple creatures.  Early on, if your opponent only has one colored permanent out and that permanent is a creature, then he's not gonna have any incentive to keep that creature alive once you've played Jihad.  Later on when he's got multiple creatures and permanents in play, it becomes far more expensive and impractical to destroy your Jihad by purposely getting his creatures killed (presumably by blocking your attackers.)
If you're also playing Green, then Jihad also stands to benefit from several Green spells including Overrun and Lure.  Overrun will give all of your creatures +3/+3 and trample which stacks on top of the +2/+1 from Jihad.  Lure will force your opponent to block the enchanted creature, leaving the rest of your flock to hit him directly.
Watch the Jihad MTG card in action
Final Thoughts
If you have a pure white deck and your opponent doesn't have any white creatures, then you stand to benefit most from this card.  If you're playing a multicolored deck, then I recommend putting Jihad in your sideboard.  To learn more, please click the button below and see the Amazon.com page for this card.