Dragonlord Ojutai: Legendary Elder Dragon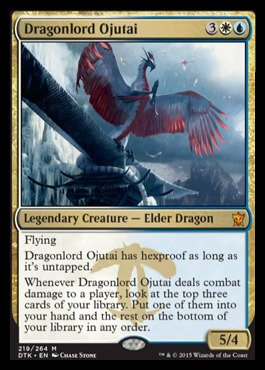 Dragonlord Ojutai is a 5/4 Legendary Creature with Flying that's an excellent addition to any deck playing Blue and White.  It has hexproof whenever it's untapped which prevents any opponents from using any spells or abilities that target Dragonlor Ojutai.  However, its most amazing ability is the one that activates whenever it damages an opponent: you then get to look at the top 3 cards on your library and pick one to put in your hand.  You must put the other two that you didn't choose at the bottom (but that can be fixed by adding another card with the ability to reshuffle your library.)  Since this creature is flying and packs quite a punch, it's likely you'll have a chance to use this ability multiple times throughout the course of the game.
Watch Dragonlord Ojutai in Action
Final Thoughts
This dragon does take a bit of time to get out due to its moderately high casting cost.  But once it's out, your chances of winning the game will have gone up significantly, especially if your opponent doesn't have any powerful flying creatures.  If you have a puppeteer, you can untap this dragon at will and trigger the hexproof ability whenever it's being targetted while tapped.  If you think Dragonlord Ojutai is a good fit for your deck, please learn more about it at Amazon.com by following the button below!